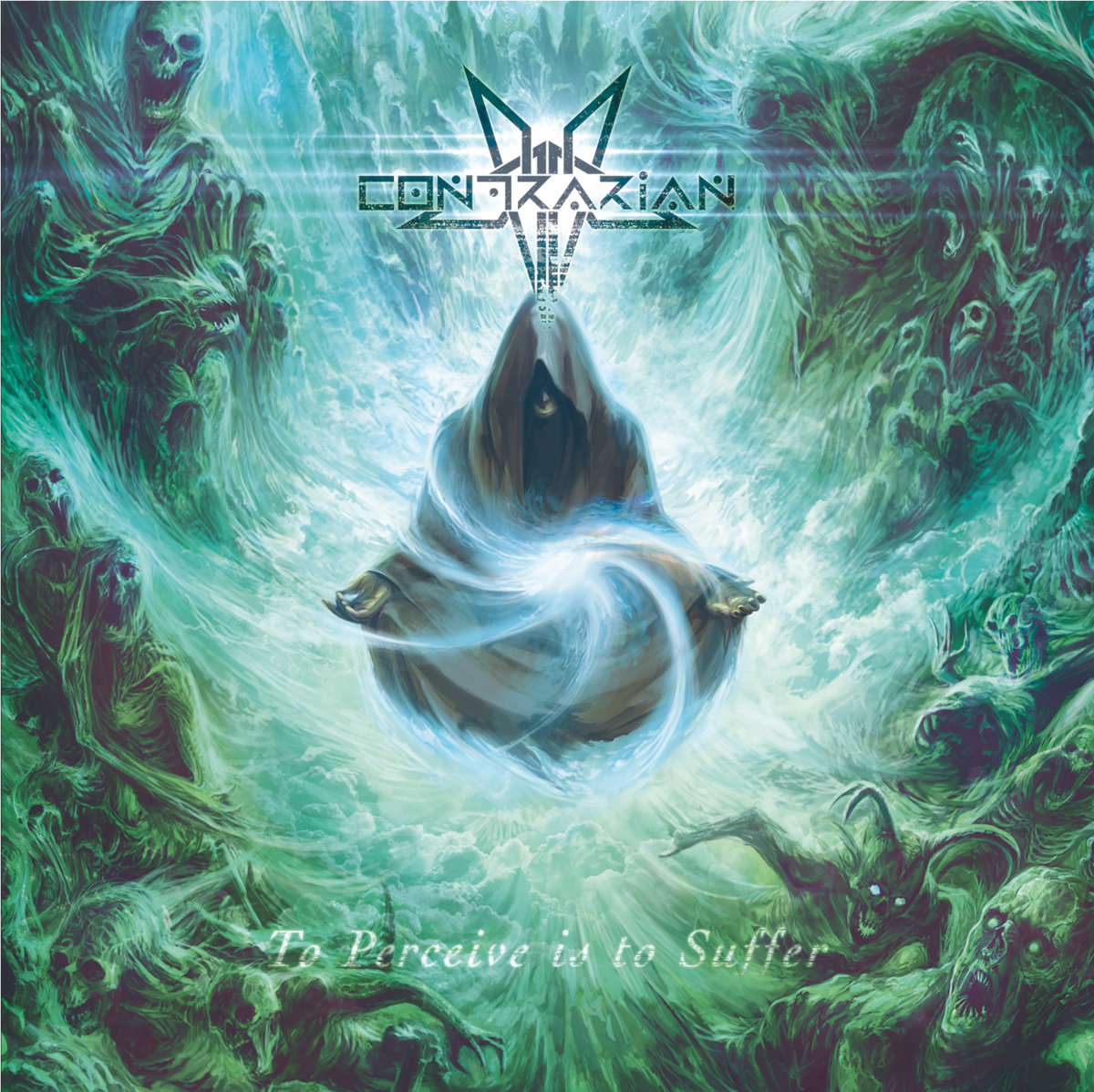 Contrarian is a sometimes international progressive death metal collaboration featuring George Kollias of Nile on drums, and on "To Perceive Is To Suffer", their second full-length, he steps up to perform vocals as well. If you like mid-90s Death, there's a good chance you'll like this album. Comparisons to the early Floridian prog-death scene are obvious from the outset, but this recording is no mere hero worship; it offers a fresh and sincere take on the style, brimming with intricate yet memorable riffs, intelligent harmonies, a strong sense of melodic interplay between the bass and guitars, and a sterling drum performance. The mix is clear without feeling sterile, and the reverb and delay effects on the vocals lend them an atmospheric quality that's uncommon in modern DM. Technical chops are here in abundance, but the focus remains on concise and enjoyable songwriting. The vocals are mostly delivered in a harsh rasp; tonally, it recalls some black metal, but the vocal patterns and pronunciation show a strong influence from vintage Chuck Schuldiner.
This album isn't flawless. The vocals are a bit lackluster; they fit the music well, both in tone and in placement, and they're certainly competent, but they lack a sense of emotive conviction that could make them truly shine. Kollias' high rasp on this album represents a change in direction from the guttural DM vocals of their debut, "Polemic"; I prefer the new sound, but fans of their earlier work may find it difficult to adapt.
Also, as an album, it suffers a bit from being too much of a good thing. Nearly every song on here is well-paced and well-structured, but each of them hovers around the same length and tempo; they all kick ass in the same way, with the same mix of elements, and the result is that, despite the catchy and memorable nature of the riffs, no song truly stands out. The exception to this is a somewhat incongruous cover of the first half of "At Fate's Hands", by Fates Warning - a slow, clean tune delivered in a stilted but pleasant sing-song, that breaks up the riff-fest nicely but doesn't really add anything of its own.
Regardless, this album is very good; I would highly recommend it to fans of old-school prog death, or any DM fan on the lookout for some exceptional melodic guitar work. Much like each individual song, it's short and to the point, clocking in at just under 35 minutes, and it's remained thoroughly engaging for me through many plays over the past several weeks. Get your ears on it: