Morbid Angel "Kingdoms Disdained"
---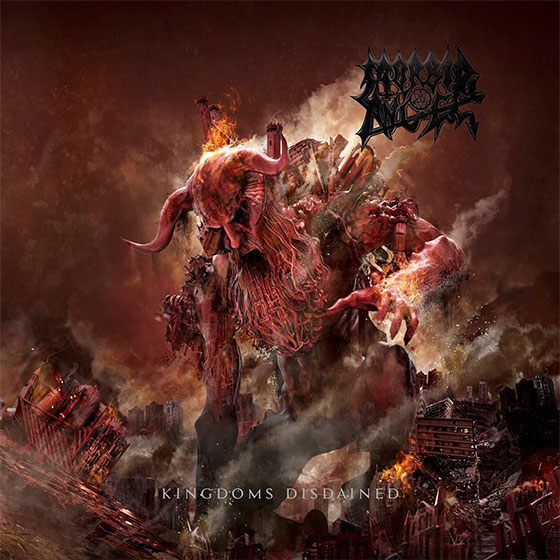 Is there any success in avoiding failure?  I mean there are no bones to make about it, Morbid Angels last offering was fucking terrible.  In comparison to that "Kingdoms Disdained" is an absolute triumph with all hints at "experimental" (or just downright "shite" bits) thankfully lost to the annals of catastrophic album releases from 2011.  But is it enough to improve on one of the worst releases ever by harking back to what you know with such totally that, inevitably, you risk judgement of being considered to have just retreated back into the safety of straight up, no frills, DM?  Albeit done with a poise and guile of the band of seasoned musicians the world knows you to be.
It is hard to criticise "Kingdoms Disdained".  The wave of favourable reviews already popping up across the metal community is already testimony to this and rightly so that these reviews are favourable, because at it's core this is as solid a DM release as you will hope to find all year.  No one with ears can deny the grinding death metal intensity of "Garden of Disdain" as it chomps away at your very being like some Pac-Man villain chasing the hapless yellow fucker.  The ripping pace, chaotic structure and mental sonics of "The Righteous Voice" will have any DM fan in absolute fucking raptures also.  The familiarity of tracks like "From the Hand Of Kings" as being straight up recognisable MA fodder will warm the heart of anyone wearing a "Covenant" tee also.  All over "Kingdoms Disdained" there's bits of great DM, I openly recognise this.
Likewise, it is hard to write entirely positive things when in essence the whole thing is just too safe.  Whilst I can hear the chaotic writing of Trey here an there it just feels like it is constantly being reined in or somehow stifled.  Who wants to sit listening to an MA record and have to hope there's a blooping, looping, totally archaic piece of sonic fuckery just waiting to spin the planet off its axis?  They should be there on all tracks not scattered throughout the record like some afterthought.  In dumbing down/pairing back for this record MA seem to have dropped into some "pre-Altars" state of foetal development, only giving hints at what they are really capable of.
There has of course been a significant line up change with Bonkers Vincent now a "Country Musician" in his own right having left the MA fray to allow the return of Steve Tucker.  Tucker is superb throughout the album, long may he reign (again).  The replacement of Tim Yeung with Scott Fuller also proves a positive step forwards.  Although at times a bit lost in the mix the drums are on the whole great throughout the eleven tracks here.  Line up improvements aside, the production feels a tad sterile and stifling at times also - "The Pillars Crumbling" in particular stands out as being riddled with this problem.  It is a similar production blueprint to the "Covenant" sound, an undeniably strong record with a sound that holds it back too much.
The overall opinion I garner from this release is that MA have returned to form, which let's face it folks isn't that fucking hard.  There needs to be more here to hold my attention beyond the few listens I have given it so far.  I have an array of similar quality sounding DM records already in my collection and I really wanted this release to standout from them.  Sadly I find myself wanting to like it more than I actually do.